Winter Recreation in the Gorham, NH Area
Mt. Washington Auto Road - Route 16, Gorham, NH 03581 - 603-466-3988
Great Glen Trails, Route 16, Gorham, NH 03581 - 603-466-2333
Elevate your adventure on the legendary Mt. Washington Auto Road! Take a comfortable, guided winter tour to 4300 feet on the Mt. Washington SnowCoach!
At the base of Mount Washington you'll discover the magnificent setting of Great Glen Trails Outdoors Center. Great Glen offers Nordic skiing, snowshoeing and tubing in the winter. Also, rentals, lessons and a full service x-c ski shop.
Mt. Washington Auto Road
Great Glen Trails
_____________
Northeast Snowmobile - 325 Main Street, Gorham, NH 03581 - 800-458-1838
Great trail-side location, which enables you to park and ride hassle free. Access the largest trail systems, the best terrain and the best views in the area! Self Guided Snowmobile Rentals, Free GPS Tracking and Map. Guides will help you with operation and planning, and stay with you until you are comfortable.
northeastsnowmobile.com
_____________
Moms Jericho, 461 Main Street Gorham, NH 03581
MOMS Jericho is your #1 destination for all your Powersports needs! We have everything you need to have fun this winter on a snowmobile. We carry new & pre-owned sleds, parts, snowmobile gear, accessories, and a full service department to keep you riding. We're located right on the trail system so you can pull your snowmobile right up to our store and get everything you need!
jericho.moms73.com
_____________
Indoor Recreation
Gorham Historical Society and Railroad Museum - 25 Railroad Street, Gorham, NH 03581 - 603-466-5338
The Grand Trunk Railway, later became known as the Canadian National and, more recently, the St. Lawrence & Atlantic Railroad. Come visit our unique Model Railroad, and also the special Quinn-Crocket Railroadiana collection, both located within a boxcar. The unique 1907 GTR depot, now serves as our seasonal museum. Please call for hours or an appointment.
gorhamnewhampshire.com/railroad_museum
_____________
Northwoods Casino, LLC - 155 Emery Street, Berlin, NH 03570 - 603-723-9550
We are here to provide a place to enjoy games of chance in an effort to provide revenue to non-profit organizations serving the North County, and a source of entertainment for residents and visitors to the area. Games include 3 Card Poker, NH 21, Blackjack, Packs Poker, Roulette, Flop 22, NH Hold-Em, NH Flush Poker and Electronic Gaming.
northwoodscasinollc.com
_____________
Winter in Gorham
Snow is plentiful here, into early April and the towns are all connected to NHSA snowmobile corridors. Stay here and you are within a half-hour drive of 6 major downhill ski and snowboard areas, 6 very scenic cross-country ski areas and lots of backcountry trails, snow-tubing, dog-sled rides, snowshoeing and ice-climbing. Take the snowcat up Mt. Washington. We are a winter wonderland!!
Snowmobiling in Gorham, NH
Hundreds of miles of trails wind thru field and forest with access to snowmobile corridors maintained by NHSA. This association of local clubs keep the trails nicely groomed. Many motels, inns and B & B's offer snowmobiling right from the door. The Presidential Rail Trail allows snowmobiles as long there is snow on the ground during specific dates like most ATV trails. See Jericho Mountain State Park. Check out the events calendar for the annual snowmobile Easter Seals Ride-In. Visit nhstateparks.org for statewide trail conditions. Or visit these local club sites:
Presidential Range Riders
White Mountain Ridge Runners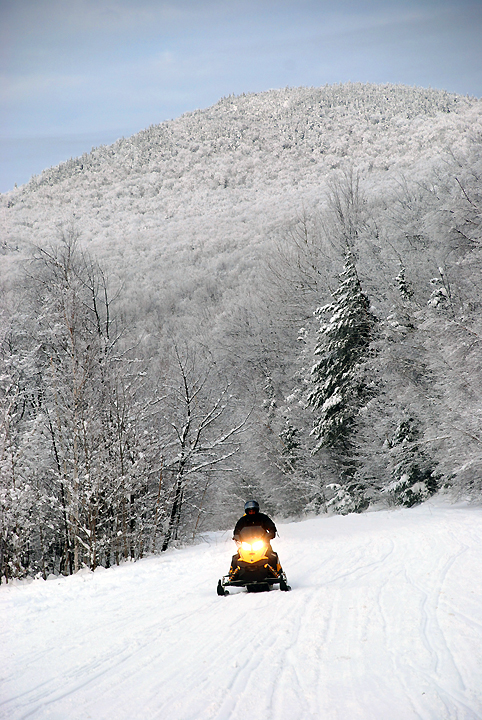 Northeast Snowmobile Rentals
325 Main Street
Gorham, NH 03581
1-800-458-1838
northeastsnowmobile.com

Downhill Skiing & Snowboarding
Seven spectacular alpine ski areas are within a 30 minute drive of the Gorham area:
Wildcat Mountain, Pinkham Notch
Sunday River, Maine
Attitash Mountain, Bartlett, NH
Black Mountain, Jackson, NH
Bretton Woods Mountain Resort, Bretton Woods, Crawford Notch
Cranmore Mountain, North Conway, NH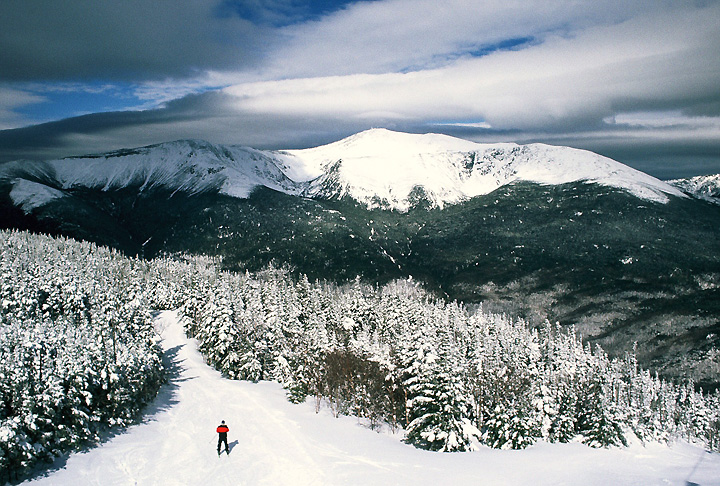 Extreme Skiing & Snowboarding
Tuckerman Ravine can be accessed by hiking the Shelburne Trail which starts at the AMC Lodge in Pinkham Notch. Every year, many people ski and snowboard in this bowl created by these these unique alpine and sub-alpine eastern slopes on Mt. Washington. It holds now into May and is the home of the Annual Tuckerman Inferno - a 5 stage Pentathalon every April.
Friends of Tuckerman Ravine
friendsoftuckerman.org
Mount Washington Avalanche Center
mountwashingtonavalanchecenter.org
Cross-Country Skiing & Fat Biking
Six extensive groomed trail systems are within 30 minutes of Gorham, NH. They offer rentals, lessons, races and events throughout the winter. Backcountry trails are endless in the White Mountain National Forest. Visit Coos Co. Cycling Club and Cross NH Adventure Trail for local maps and information. Many of the groomed xc-ski centers offer fat biking as well as skiing but please call them ahead for information.
Great Glen Trails
Jackson XC
Bretton Woods XC
Mt. Washington Valley Ski Touring, North Conway, NH
Bear Notch Nordic Ski Area, Bartlett, NH
Carters Ski Touring, Bethel, Maine
Nansen Ski Trails, Milan State Park, NH - maintained by the oldest nordic ski club in the US. skinansen.com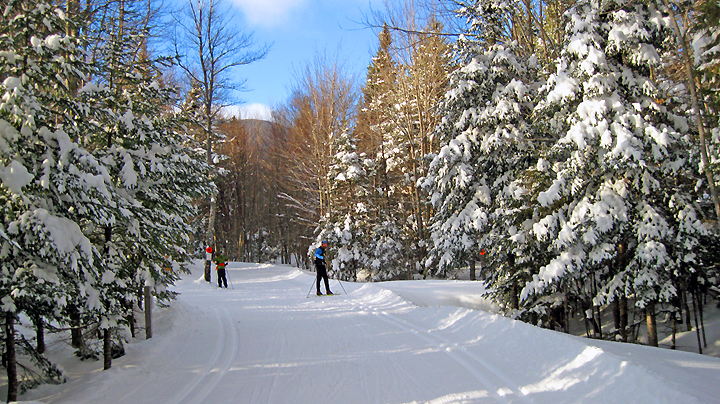 Dogsledding & Rolling DogSled Rides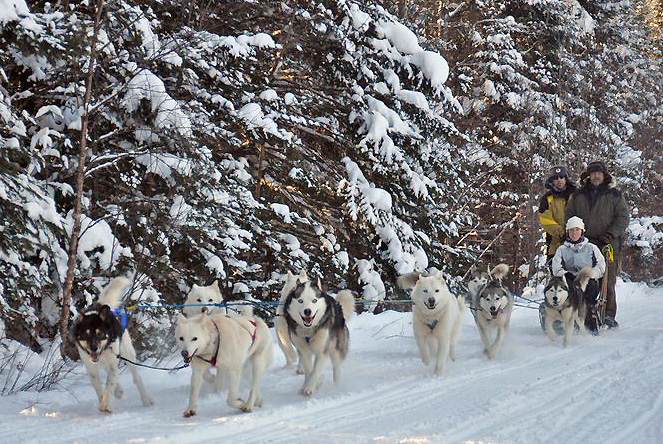 Take a ride on a dog-sled and experience the world of winter on a whole new level. Also enjoy the trails and views on a Rolling Dogsled ride in Summer or Fall, office on Main Street, in Gorham.

See Summer Recreation
14480a