Shopping in the Gorham, NH Area
The Gorham and Berlin areas have many specialty stores, most of them are family owned and operated. You can find souvenirs and locally made gifts on Main Street and Exchange Street. There are also some larger franchise stores in the area.
Flea Markets ~ Saturday Mornings in Summer & Fall - On the Gorham Town Common.

Farmer's Market ~ Thursdays in Summer & Fall - Main Street, Berlin, NH. Vendors sell their locally made products and produce. Sponsored by WREN. Entertainment.
Retail General
Dollar Tree - Main Street, Gorham, NH
Family Dollar Store - Main Street, Gorham and Berlin, NH
Gorham Hardware - 96 Main Street, Gorham NH, 603-466-2312
Labonville Inc. - 504 Main Street, Gorham NH, 603-752-4030
North Country Flea Market - 161 Main Street, Gorham, NH, 603-466-1140
Rite Aid - 200 Pleasant Street, Berlin, NH, 603-752-3952
Tractor Supply Company - 491 Main Street, #8 Gorham, NH, 603-752-5300
Walmart, Store #2634 - 561 Main Street, Gorham, NH, 603-752-4621
Farms
Mountain River Flower Farm - 128 Old Route 110 West, Dummer, NH 03588
Round Table Farm Greenhouse - 30 Round Table Farm Road, Milan, NH 03588
Tassey Farm - Village Road, Shelburne, NH 03581
Food Markets
Berlin Marketplace - 19 Pleasant Street, Berlin, NH, 603-752-1050
Rudy's Market - 81 Wight St., Berlin, NH, 603-752-2333
Walmart - Store #2634 - 561 Main Street, Gorham, NH, 603-752-4621
Gift Shops
Country Gift Shop, 152 Main Street, Gorham, NH
deSigns and Framing, 36 Exchange Street, Gorham, NH, 603-466-9900
Gorham House Florist, LLC - 10 Exchange Street, Gorham, NH 603-466-2653
Greetings Jewelers/Hall of Greetings -107 Main Street, Berlin, NH, 603-752-1520
Scoggins General Store - 133 Main Street, Gorham, NH, 603-752-5204
The Wandering Soul - 160 Main Street, Gorham, NH, 214-325-4329
Specialty
Mom's Jericho
Powersports Dealership
461 Main Street, Gorham, NH
Service: 603-541-7872
jerichomoms73.com
Byrne Auto
Used Car Sales
114 Main Street, Gorham, NH
Sales: 603-723-2977
jerichomoms73.com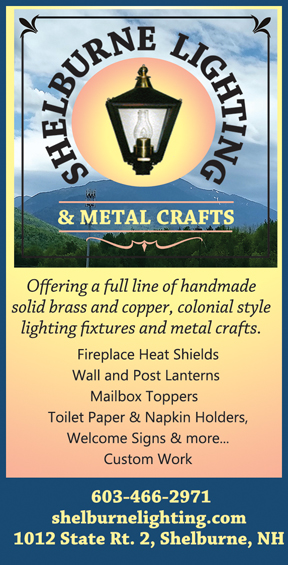 A & B Electronics, 55 Maynesboro Street, Berlin, NH, 603-752-1387
Aubuchon Hardware, 38 Glen Avenue, Ste 8., Berlin, NH, 603-752-1449
Betty Dee Fashions - 87 Main Street, Berlin, NH, 603-752-5141
Color Works, Inc., 30 Glen Road, Gorham, NH, 603-466-9825
Fastenal Company, 605 Main Street, Gorham, NH, 603-752-2006
Gosselins Hot Tubs/Spas,122 Wight Street, Berlin, NH , 603-752-4209
Grand View Country Store & Yarn Shop, 89 US Rt. 2, Randolph, NH, 603-466-5715
Lulu's Fine Finds, 199 Main Street, Gorham, NH 03581
Middle Earth - 95 Main Street, Berlin, NH, 603-752-7400
Mountain Valley Recreational Pools & Spas, 410 Main Street, Gorham, NH, 603-466-3868
NH Liquor Comission State Store, 159 Main Street, Gorham, NH, 603-466-3367
also 17 Pleasant Street, Berlin, NH, 603-752-1552
Shelburne Lighting and Metalcrafts - 1012 Route 2, Shelburne, NH 603-466-2971
Skinplicity, 94 Main Street, Berlin, NH, 603-752-4640
Gas & Variety
Irving #154183 - Pleasant Street, Berlin, NH, 603-752-5127
Big Apple - 120 East Mason Street Berlin, NH, 603-752-4739
Bob's - Variety 71 Hillside Avenue Berlin, NH, 603-752-4412
Cumberland Farms - 60 Main Street, Gorham, NH, 603-466-2157
Gorham Irving/Circle K - 350 Main Street, Gorham, NH, 603-466-2178
Old Corner Store - 764 Presidential Highway Jefferson, NH, 603-586-7722
Milan - Luncheonette & Variety - 717 Milan Road, Milan, NH, 603-449-6726
Ron's Variety & Deli - 737 Main Street Berlin, NH, 603-752-1908
The Busy Corner - 687 Presidential Highway Jefferson, NH
Vashaw's Variety - 302 Main Street Gorham, NH, 603-466-5008
14480a